Wes Feltner was suspended from Southern Baptist Theological Seminary where he served as an adjunct professor for a sexual abuse scandal dating back to at least 2002. There are two victims from his time as a youth pastor at FBC Clarksville, Tennessee. THe allegations, according to the Leaf Chronicle:
The two say the abuse started when the girls were 18 years old and still members of Feltner's youth group. Frey was a high school senior when Feltner began counseling her after a breakup. She said it quickly progressed into a sexual relationship.
The two accusers both claim, with photographic evidence and a trip to Las Vegas, that Wes Feltner groomed them, taking advantage of their personal issues to pursue a relationship, one of which would be sexual.
The women say everything came to a head at a youth retreat, in which the other pastor who was friends with them all figured out Feltner was carrying on secretive relationships with Frey and Hendrickson at the same time he was publicly dating his girlfriend.
Apparently he was playing the system with three women simultaneously like a stereotypical douche. But the lead pastor at the church suppressed the sin and the sentence.
The women say Feltner was allowed to quietly leave the church — complete with severance pay and paid vacation time — and went to Oak Park Baptist Church in Jeffersonville, Indiana. They tried to warn that church, but say they weren't listened to.
So not only did the church fail to respond, they passed along an unqualified minister to another church. At first glance, the two of them being 18 at their respective times makes it seem as though it's not that bad. But the details of the actual case suggest a serial pattern of grooming while also being in a public relationship. There are no mitigating factors here that leave him qualified for leadership.
https://twitter.com/mrsdafrey83/status/1191073443388760064?s=20
Upon finding out on social media, Al Mohler, President of Southern Baptist Theological Seminary swiftly responded with a statement.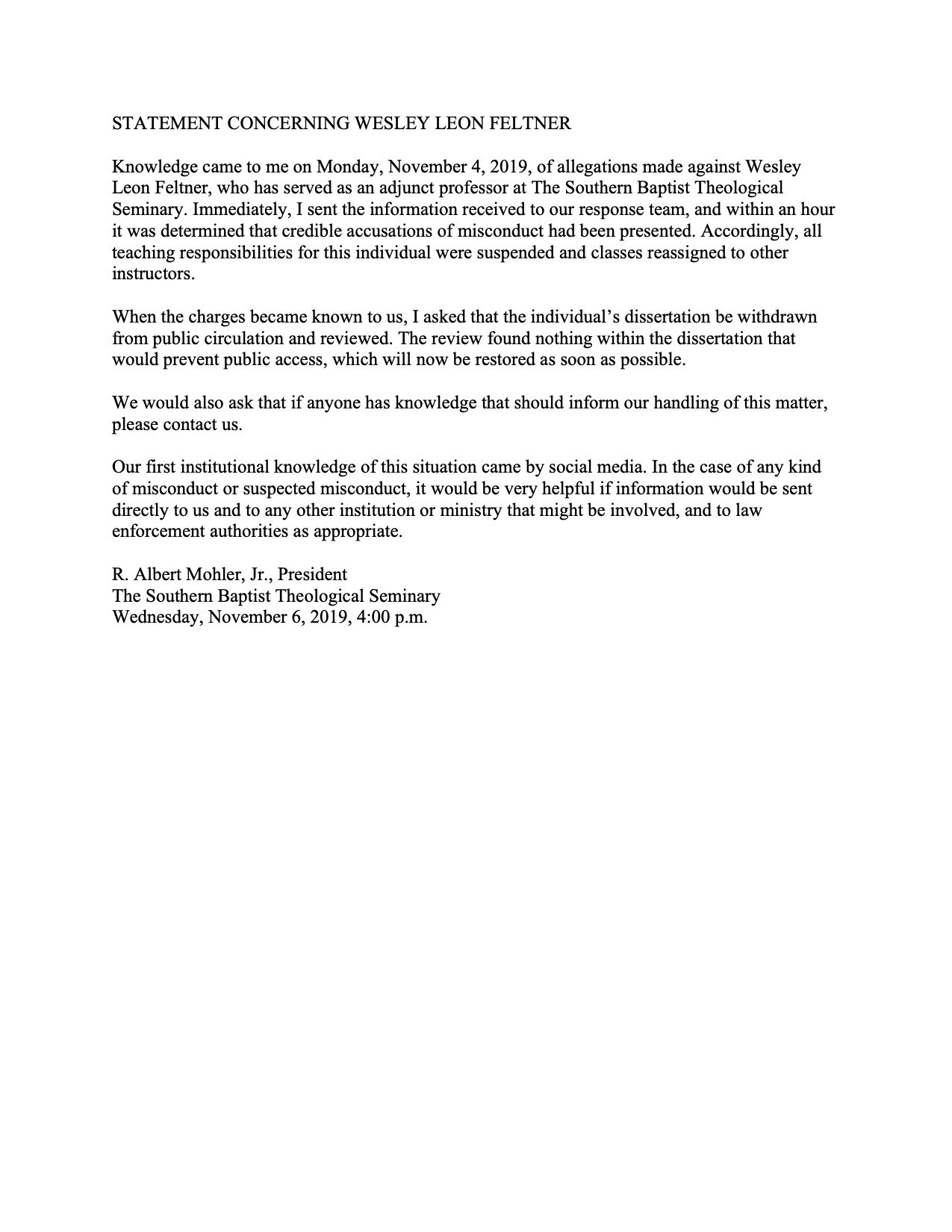 This is the appropriate response. These are not uncorroborated accusations. There are evidence and witnesses in the reporting. So the response is extremely appropriate. This comes at a time when the Southern Baptist Convention has been under scrutiny for its handling of like situations. In the past, we've written about what the Bible says about handling sexual abuse in the church, and it seems as though Al Mohler is choosing to follow that standard with Wes Feltner.
---
Interested in learning more? Join the Evangelical Dark Web.