Last month we reported on Randy Adams announcing his candidacy for President of the Southern Baptist Convention. In his announcement were seven planks on which he is running. Plank number three was to value every church.
Plank 3 was as follows:
Value Every Church – The local church is the body of Christ purchased with the blood of Christ. Whatever its size, the sphere of influence and potential impact of any church is broader than what we can see in a weekend gathering. As such, every cooperating SBC church should be valued, and strategies to increase the engagement of all churches in SBC life must be employed, including use of technology to enable remote access to voting at the Annual Meeting of the SBC. We should not be satisfied with how few of our churches participate in the Annual SBC Meeting. Cooperating SBC churches must not be disenfranchised from participation in the decision-making process because they cannot afford to travel to annual meeting locations.
Randy Adams took to Twitter over the weekend with a statement about how little engagement with the national convention is because of how much smaller the average SBC church is in comparison to the bigshot megachurches of the SBC.
Half of SBC churches have 70 or less on Sunday. 99.5 percent have fewer than 1,000. Small and medium size churches are sending missionaries and reaching their own communities. We need to incvolve them more in making decisions at SBC. #sbc20 #sbc2020 #northwestbaptists

— Randy Adams (@ERandyAdams1) February 21, 2020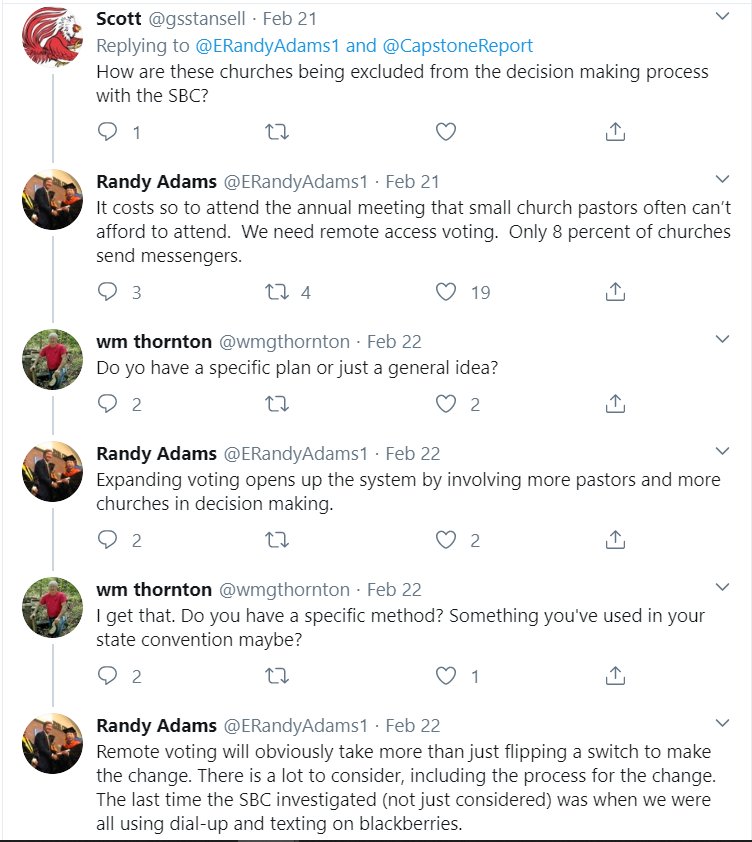 Adams wants the Southern Baptist Convention to operate as the fellowship of cooperating churches that it was designed to be. In order to do this, he wants to employ modern technology so that churches particularly those that cannot afford to take a trip to Orlando can still participate remotely. As I noted on Twitter,
This is what church leadership that is not elitist looks like. @ERandyAdams1 #SBC2020 pic.twitter.com/6DOcIjrfak

— Raymond Fava (@RaymondFava) February 24, 2020
If the smaller churches within the Southern Baptist Convention are empowered to participated in convention politic, then the doctrine of the Southern Baptist Convention will ideally thwart the Social Justice Gospel that seeks to infiltrate. Furthermore it will allow for the decentralization of influence within the convention. The fraternity which the Southern Baptist Convention has become has bred elitism to run rampant thereby placing little importance on smaller churches. This is the need in the denomination that needs to be addressed and we are impressed with Randy Adams' articulation of the problem and his presentation of a path forward.
---
Interested in learning more? Join the Evangelical Dark Web.