Category 5
Verdict: Michael Todd preaches the Prosperity and Popularity Gospels. His potential danger is one of Joel Osteen levels.
Preface
At the request of one of our readers, we have been asked to investigate whether Michael Todd is a false teacher. You can make a request here, and we will honor it. It is a source of joy to be trusted in such a way. Part of what we want to do in our Discernment ministry is to go beyond the low hanging fruits like a Joel Osteen or Paula White.
Background
Michael Todd AKA Mike Todd is a megachurch pastor in Tulsa, Oklahoma. He went viral from his sermon series "Relationship Goals" which he turned into a book and study. He pastors at Transformation Church, a church founded by Gary McIntosh. Michael Todd began as the protégé of Gary McIntosh. Transformations Church bills itself as a "dynamic, multi-ethnic, multi-cultural, non-denominational inner-city ministry in Tulsa, Oklahoma. It embraces the spirit of its founder as it expresses a radical, diversified, progressive, 21st century technological church." The fact that they use the word progressive in their church description is foreshadowing what's to come.
Transformation Church
Is Transformation Church a legitimate church? Let's perform the website test. Transformation Church when this verdict was first published had their statement of faith quoted as it is below. However since the original publish date, Transformation Church removed their statement of faith from their website sometime around May 2020, likely because of the link traffic from this site. However, the archived page containing their faith statement can be found here. The ministry positions considered valid according to Transformation Church are:
THE FIVE-FOLD MINISTRY POSITIONS OF APOSTLES, PROPHETS, EVANGELISTS, PASTORS, AND TEACHERS ARE GIFTS GIVEN TO EACH LOCAL CHURCH AND THE UNIVERSAL CHURCH. THESE GIFTS ARE FOR THE EQUIPPING OF BELIEVERS TO SPREAD THE GOSPEL OF CHRIST. WE BELIEVE BOTH MEN AND WOMEN ARE SOVEREIGNLY CHOSEN BY GOD FOR THESE MINISTRY POSITIONS.
At a minimum, its unbiblical to exclude deacons as a ministry position. It's absolutely arrogant to elevate oneself to prophet or apostle. The title is void of meaning, in doing so. Furthermore, churches that proclaim such titles usually bend on more passages. This portion will be addressed in greater detail below because of its homage to false apostolic movements, such as NAR.
The statement of faith goes on to insert the Prosperity Gospel. Learn more about why the Prosperity Gospel is heretical here. We bolded the text that in no way support their following claims.
WE BELIEVE THAT, AS PART OF CHRIST'S WORK OF SALVATION, IT IS THE FATHER'S WILL FOR BELIEVERS TO BECOME WHOLE, HEALTHY, AND SUCCESSFUL IN ALL AREAS OF LIFE:

SPIRITUAL

(John 3:3, 11: Romans 10:9-10, 2 Corinthians 5:17-21)

MENTAL & EMOTIONAL

(Isaiah 26:3; 2 Timothy 1:7; Romans 12:2)[1]

PHYSICAL

(Isaiah 53:4,5; Matthew 8:17; 1 Peter 2:24)[2]

FINANCIAL

(Deuteronomy 28:1-14; Joshua 1:8; Psalm 34:10, 84:11; Malachi 3:10)[3]
The statement of faith inserts the Prosperity Gospel as well as some NAR language. This is enough to not recommend this church at a minimum. It's is also safe to assume that the Prosperity Gospel is preached there. Transformation Church also ordains female ministers. We would not consider Transformation Church to be a legitimate local church.
It's worth noting that Transformation Church has a robust YouTube page which boasts both the influence and the need for discernment.
Popularity Gospel
The supposedly famous "Relationship Goals" series which went "viral" according to Transformation Church is littered with the self-love Popularity Gospel which looks to make people feel good rather than be confronted with the realities present in a Christian worldview.
In part two[4] of the endless series, Michael Todd inserts a commandment in Matthew 22. For reference:
36"Teacher, which is the great commandment in the Law?" 37And He said to him, "'You shall love the Lord your God with all your heart, and with all your soul, and with all your mind.' 38This is the great and foremost commandment. 39The second is like it, 'You shall love your neighbor as yourself.' 40On these two commandments depend the whole Law and the Prophets."
Michael Todd preaches that loving your neighbor as yourself is conditioned upon loving one's self. This unbiblical insertion into this passage ignores human nature preestablished in Scripture that Jesus is referencing. According to the Bible, self-love is assumed. Therefore, Jesus has no need to preach on self-esteem. Self-love is assumed because we are inherently selfish and sinful because of our nature.[5] Yet Michael Todd uses this passage to say that we need to love ourselves. If anything, this passage is not about loving ourselves. Love your neighbor as you love yourself is far easier if we take ourselves down a few notches. It's about loving yourself less not more and loving other people more. He goes on to say your love for Jesus should be equal to your self love. This is an anti-biblical message meant to tickle people's ears. The easiest message to hear is you need to love yourself.
To the loneliest generation, Michael Todd preaches that singleness is the most important time in one's life.[6] This ignores the long human history of there not being a gap between youth and adulthood. But prolonged adolescence is good for growth because human nature is somehow different in the twenty-first century than in any other. Another note on these sermons is that they are eisegesis in action. He is making his relationship points and occasionally finding Scripture that backs his point. And a lot of his points are not biblical like the singleness passage above and some simply aren't remotely profound ie dating not wrong if God is in the middle. And for the most part throughout my observations, he relies on paraphrased translations of the Bible and sometimes whatever The Message counts as. In Part eight of this sermon series, he claims we should end relationships that slow us down. This could easily be construed as getting rid of "negativity" in your life, a very secular mindset.[7] His messages are meant to make people feel good and contain little biblical substance.
New Apostolic Reformation
The faith statement of Transformation Church affirms the teachings of false apostolic movements such as the Ladder Rain Movement of 1948 and the present New Apostolic Reformation. The former of these Pentecostal movements was denounced by the Assemblies of God in 1949. Upholding the modern mantel of this ideology was C. Peter Wagner who coined the phrase "New Apostolic Reformation." The connection between Michael Todd and the NARpostle, C. Peter Wagner, is indirect. Transformation Church was built with the megachurch infrastructure of Gary McIntosh. Gary McIntosh and C. Peter Wagner were quite familiar with one another. Gary McIntosh is well documented in his writings for affirming the ministry of C Peter Wagner. Likewise, C. Peter Wager is well documented endorsing McIntosh's work.
In 1986, C. Peter Wagner founded the American Society for Church Growth. Gary McIntosh would later serve as its president. This organization is currently named the Great Commission Research Network. The organizational connection between C. Peter Wagner indicates an alignment of theological views, as it relates to NAR. It is likely that C. Peter Wager would have considered Gary McIntosh to be an apostle. However, Gary McIntosh has adopted the subtler title of "Bishop." The New Apostolic Reformation is more of a movement with regards to church leadership than an official organization. One of the "legitimate" fronts for this movement is the International Coalition of Apostolic Leadership (ICAL). No connection between Gary McIntosh and ICAL have been found.
The theological likeness of Gary McIntosh to C. Peter Wagner means that in his mentorship, these unbiblical views on church leadership and the adoption of titles were instilled on Michael Todd and remain in Transformation Church's faith statement.
Trinitarian Heresy
In a sermon that only recently went viral, Todd explains his view of the Holy Spirit. The analogy that got many people's attention is when he used the three states of matter using water as an example. This got panned because Michael Todd used dry ice to represent water in a gaseous form. One would think that a pastor with fog machines in his church would know that that the dry ice used to make fog is actually frozen carbon dioxide.
However there is a glaring problem with this analogy to explain the Trinity. Water cannot be liquid, solid, and gas at the same time. A water molecule is always going to be in one state. This analogy lends itself to modalism because modalism teaches that God changes forms.
However, Michael Todd does believe all of the Trinity exists at one time. The way that he explains this is wrestling, whereby partner wrestlers tag each other in. This off course presupposes that only one of the godhead is active at a single time. According to Todd, God The Father worked seven days of creation before tapping out, pretty much ignoring God's active hand in the Old Testament. Then Jesus was active for 33 years in which when He uttered the words, "it is finished." on the cross, He tapped out despite still rising from the grave, spending another forty days on earth and promising a second coming. Ever since, it's been the Holy Spirit who is active while the Father and the Son are seated.
The Lord's Prayer in which Jesus modeled praying to the Father, shows that even though He is seated on the throne in Heaven, He is still sovereign here on earth. Mike Todd's underlying premise is that if Jesus is not here on earth, He has no power here on earth. This premise is both incorrect and heretical. Perhaps Mike Todd's beliefs don't fall neatly into modalism, but this is a trinitarian heresy, nonetheless. And it is a heresy made both out of stupidity and a carnal mind.
Association With False Teachers
In 2019, Michael Todd was a headline speaker at Lakewood Church's Hope & Life Conference. This is just the culmination of the well-established link between Michael Todd and Joel Osteen. If Michael Todd is this in bed with Joel Osteen, it would be because he does not preach the true gospel.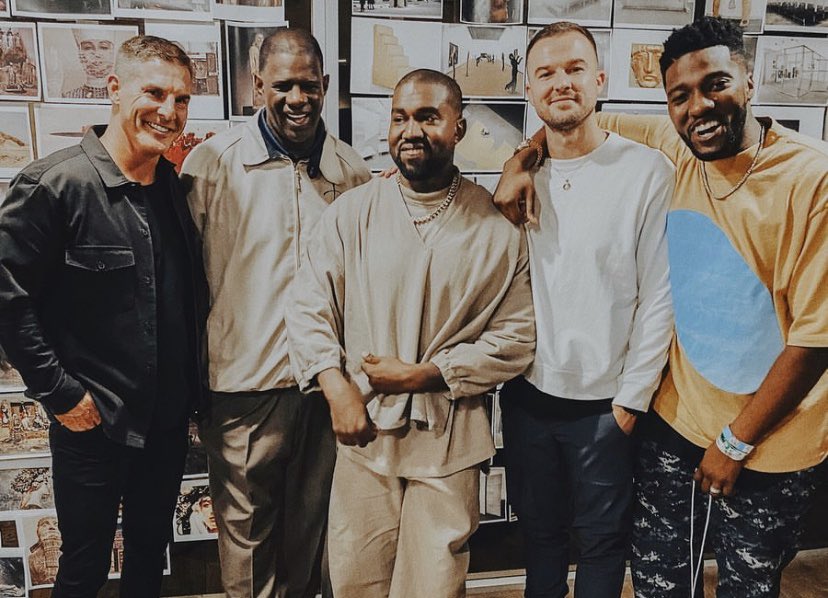 In addition to Lakewood Church, he has also preached at Steve Furtick's Elevation Church. He is widely recognized to be a false teacher by ally publications.[8] He also spoke at Vous Church in Florida where Rich Wilkerson Jr preaches.[9] On a more topical note, Michael Todd is one of the preachers that rushed to surround Kanye West following his actual? conversion.[10]
Conclusion
After surveying his sermons online, it's clear that Michael Todd's ideas are neither profound nor is his exegesis admirable, intellectually stimulating, or otherwise not found on an Instagram post. Aside from taking the reins in a megachurch, the only reason he has achieved the popularity as he's accumulated is because he sounds like Kevin Hart while preaching the Popularity Gospel and the Prosperity Gospel. Thus, his potential danger of Michael Todd is as the next Joel Osteen.
The evidence shown denotes that he preaches a counterfeit gospel, one of self-love and personal gain. We rate Michael Todd a Category Five for his various heresies, including but not limited to the Prosperity Gospel, Modalism, and possible involvement in the New Apostolic Reformation.
Updated 04/2020 to include link to white paper on Prosperity Gospel
Updated 05/2020 Transformation Church removed their faith statement from their website entirely. The link has been updated to an archive version. On that note the font on the archived statement of faith is white on a white background.
Updated 10/2020 Research on a the New Apostolic Reformation and Michael Todd and his predecessor, Gary McIntosh, were added to the compilation of evidence.
Updated 10/2022 Included section on Trinitarian Heresy
---
[1] There is some validity to the Holy Spirit renewing our minds, but this does not mean we are immune to mental health issues. 2 Timothy 1:7 does not support this claim.
[2] These three passages are all in reference to Jesus, not the followers of Jesus. Jesus was foretold to perform the miracles of healing. This is not a promise for his followers. After all, many of those healed or did not hear the Word. None of these passages in context support this claim.
[3] The passage in Deuteronomy 28 is about the Protestant work ethic as it's called. Transformation Church assumes that "make your way prosperous" refers to our estate rather than "way" as when early Christians were called followers of The Way. Psalm 34:10 is about the Lord providing daily, not becoming wealthy. The context of the Malachi passage is tithing.
[4] Single, Not Alone: Relationship Goals (Part 2) Aug 14, 2017 Time stamp 13:00-16:00, 20:45-21:10
[5] Genesis 3. Adam and Eve wanted to be like God in rebellion. Human nature has been selfish ever since.
[6] The Myth Of Dating Relationship Goals (Part 3) Aug 21, 2017 Time Stamp 5:30-6:00
[7] Does "It" Need to End? Relationship Goals (Part 8) Sep 25, 2017
[8] Short list of evidence of Steve Furtick on Pirate Christian. We may do our own verdict on Furtick.
[9] We covered Rich Wilkerson Jr. in a previous article where he gave a sermon at Kanye West's Sunday Service before Kanye West said he was saved. In this sermon, the Popularity Gospel was preached.
[10] Kanye West's association with false teachers is reason to remain skeptical. However, baby Christians are very susceptible to false teachers.
Support the Evangelical Dark Web
By becoming a member of Evangelical Dark Web, you get access to more content, help drive the direction of our research, and support the operations of the ministry.
Receive the Evangelical Dark Web Newsletter