In the wake of the massacre in Atlanta, Georgia that left 8 people dead, the media rushed to speculate on the causes and motivations. Big Eva perhaps carried the torch further by legitimizing attacks against the church that the media lauched following this shooting. According to reports, the alleged shooter, Robert Aaron Long, was motivated by "sexual addiction" and not race as widely speculated on social media. It was later uncovered that he may go to a Southern Baptist church, one that is affiliated with Founders Ministry. Rachel Denhollander came over the top rope to tweet this: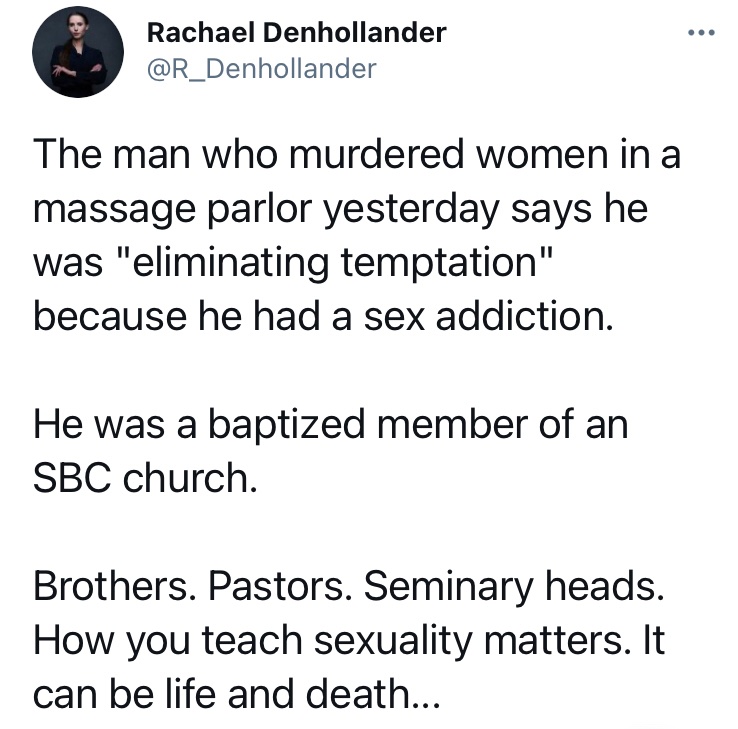 This is a long thread in which Rachel Denhollander blames initiatives like the Council on Biblical Manhood and Womanhood and sound teaching on biblical sexuality for radicalizing murderers. Of course, it's worth mentioning that Denhollander is using an irresponsible straw man fallacy here.
There are several things wrong with Rachel Denhollander's words. Let's exegete them:
First she legitimizes his "sex addiction." Sex addiction is not a real thing. It's a lie. It's not the real motivation for murder. This is a lack of personal responsibility.
Secondly, being baptized by a Southern Baptist church is not a high standard of involvement in said church. He could have merely prayed the Sinner's Prayer one service, and was subsequentially baptized.
Then she blames the church. She levies a major accusation against the church because of this church's commitment to biblical sexuality. What is deliberately ignored here is that this church more than likely teaches on more than just sexuality. Does Rachel Denhollander honestly think that this church does not teach the Ten Commandments? Exodus 20:13 is taught in most churches in the United States.
Rachel Denhollander's criticism is ultimately a self-serving. She's trying to increase her own standing at the expense of a church. In doing so she is slandering the brethren. This is wicked. It's is an irresponsible witness.
Going back to the murders, alleged murderer, Robert Aaron Long is an incel. If you recall the moves Taxi Driver or the more recent, Joker. Both films address the concept of an incel. An incel is a adult male who is isolated, often views pornography and harbors a resentment towards women, and rejects person responsibility and masculinity. Whereas the main character in Taxi Driver, ultimately overcomes being an incel, the Joker descends into madness. This event in Georgia appears as though the latter has taken place.
Millennials are the loneliest generation and perhaps Gen Z is even lonelier. If the church should take any lesson from this it should not be a softening of biblical sexuality. Instead it should be outreach efforts to ensure that young males don't turn into incels. Ultimately, it is the grace of God that prevents us from succumbing to the worst sins of humanity. Therefore, we should not be quick to insult Christ's Bride because of the sins of people who were ultimately not Christian.