The long awaited Enemies Within The Church documentary has finally come out, and the first major Big Eva acknowledgement or "backlash" against the film post-release is Adam Greenway trying to suppress a premiere viewing at a competing seminary. Mid-America Baptist Theological Seminary is one of the few uncompromised seminaries left, and they exist as a Baptist seminary outside the purview of the Southern Baptist Convention. Adam Greenway took to Twitter to voice his displeasure with Michael Spradlin for his seminary hosting this even in an apparent coordination with the Conservative Baptist Network which has been their practice since that organization began.
It is with deep disappointment but strong conviction that I have sent the following letter to Dr. Michael Spradlin prayerfully requesting him to reconsider the decision of MABTS to host the premier of a film whose trailer contains scandalous and scurrilous slander against @SWBTS. pic.twitter.com/Zb26Y8CGUq

— Adam W. Greenway (@AdamGreenway) November 17, 2021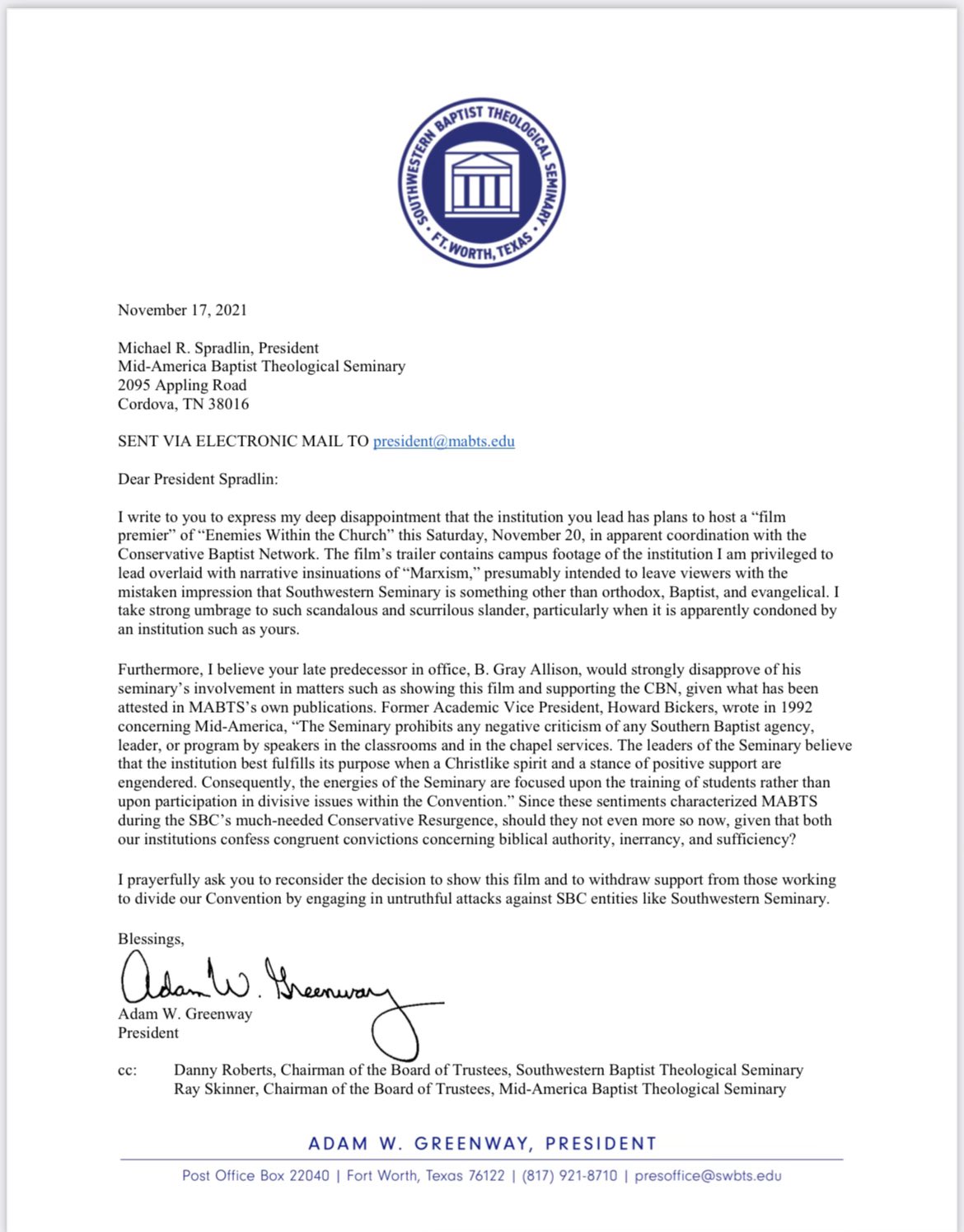 The tweet indicates, Adam Greenway is judging solely by the trailer and has not seen the actual movie. But having seen the actual movie, the parts pertaining to Adam Greenway and SWBTS relates to Greenway's firing of Dr. Bobby Lopez and slandering him. This has been known for two years, and Adam Greenway remains unrepentant to this day.
The letter represents a sad attempt to appeal to the dead Conservative Resurgence movement when the current SBC no longer holds firms the same convictions as MABTS in theory or in practice. Michael Spradlin has not publicly responded to the letter as of yet.
Typical Southern Baptist polity, the 11th Commandment, would dictate that Adam Greenway not publish this letter publicly, but an exception was made. The meltdown is real.
Consider also supporting Evangelical Dark Web
It's not about the money. It's about supporting the mission in contending for the faith against false doctrines. Consider becoming a member of the Evangelical Dark Web. If you aren't willing, comfortable, or able to, that's cool. And if you still like our content, at least subscribe to the newsletter below.
Receive the Evangelical Dark Web Newsletter