In a bizarre move that seems to come out of the RNC playbook, Donald Trump took to Truth Social to cast blame on the pro-life movement for the underperformance Republicans had in the 2022 elections.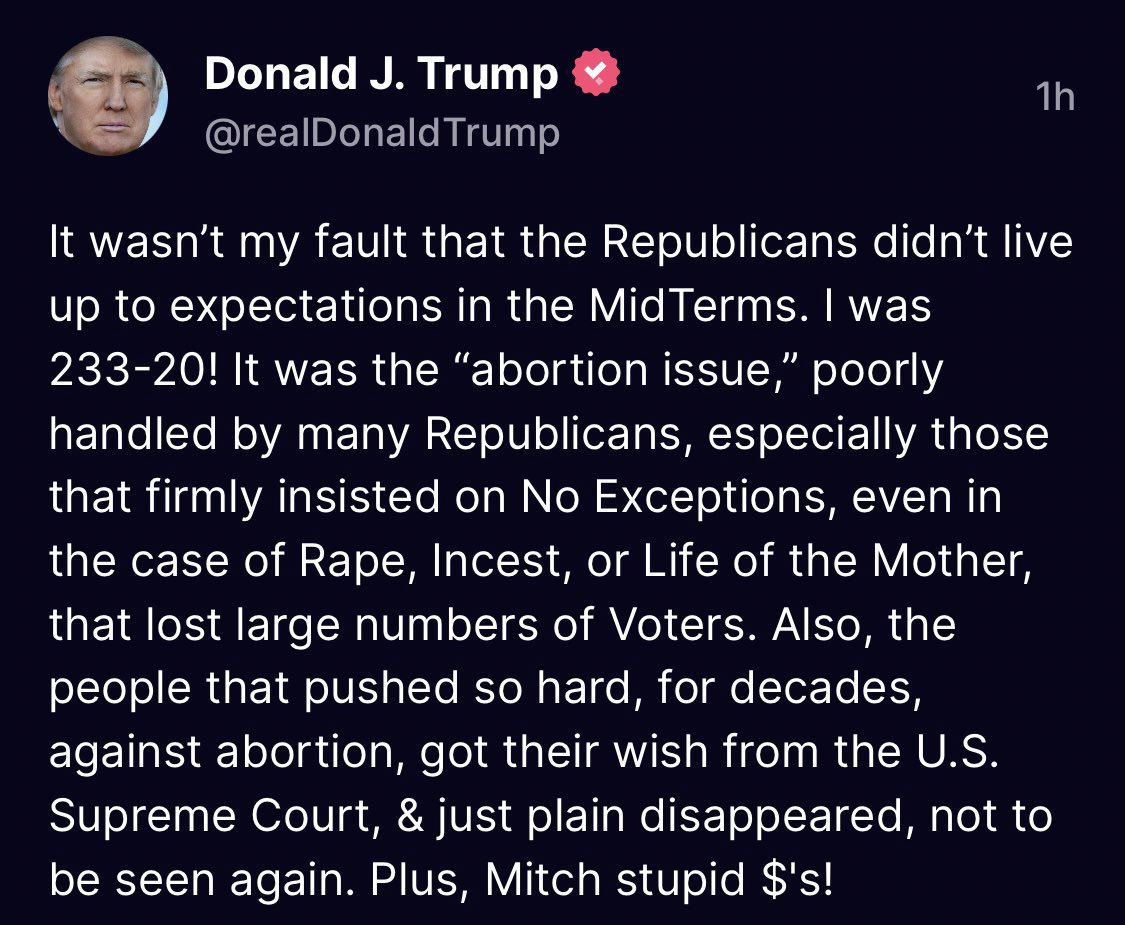 It's not surprising that Trump would not take responsibility for his role in the 2022 election performance. However, he goes on to blame one of the most loyal voting blocs in the Republican Party for not showing up on game day. In a plot twist, Trump asserts, the pro-life movement used the GOP to get a policy outcome rather than the GOP use the pro-life movement to win elections.
Trump details just how not pro-life he actually is touting his support for rape, incest (eugenics), and the fallacious life of the mother exceptions for abortion.
Trump's claims are all over the place. On one hand, he states that pro-lifers are too extreme for the American public. On the other, he's blaming them for not showing up on game day. He closes by blaming Mitch McConnell's funding which was a main contributing factor to not winning flappable senate seats.
Instead, Republicans lost independents for third straight election cycle (2018, 2020, 2022). This is why factions (MAGA & establishment) are at-war blaming each other right now. Which faction is most responsible for turning off independents, again?

— Steve Deace (@SteveDeaceShow) January 2, 2023
As Steve Deace points out, the issue was more that the Democrat base of single bitter women showed up in droves.
Had no idea there were so many "abortion isn't important" people still on the Right. Yet another reason why I'll never run for office again. I'm wildly out of step with most of the country and have no problem admitting that.

Babies matter.

— Jesse Kelly (@JesseKellyDC) January 2, 2023
I agree that it's an unnecessary statement to make. Especially before a contentious primary

— Red Eagle Politics (@RedEaglePatriot) January 2, 2023
Noted Trump2024 supporter, Red Eagle Politics even said the statement was unnecessary after agreeing with it, in part.
It's unclear what impact this will have on the 2024 primaries, the number of people on Truth Social is small, and the news cycle is fleeting.
Support the Evangelical Dark Web
It's not about the money. It's about supporting the mission in contending for the faith against false doctrines. Consider becoming a member of the Evangelical Dark Web. If you aren't willing, comfortable, or able to, that's cool. And if you still like our content, at least subscribe to the newsletter below.
Receive the Evangelical Dark Web Newsletter