The Southern Baptist Convention has a deeply vested interest in portraying itself as a hive of sex abuse and sex abuse coverups. Unfortunately for their narrative, the facts don't back this up. The Sex Abuse Task Force Report uncovered no previously unknown instances of sex abuse that were covered up, despite a multimillion dollar investigation. Oddly enough, the SBC has been circling the wagons to make sex abuse victims out of willing participants.
A central figure in this Me Too agenda controlling the SBC is Rachael Denhollander, and her grift in this matter has been laid out to bare on Daily Wire reporter, Megan Basham's Twitter account.
I messaged Denhollender while working on my report to ask if she had made any guarantees to the SBC that she would not use her advisory role to connect alleged victims to law firms or attorneys to which she has connections. She did not respond.

— Megan Basham (@megbasham) January 8, 2023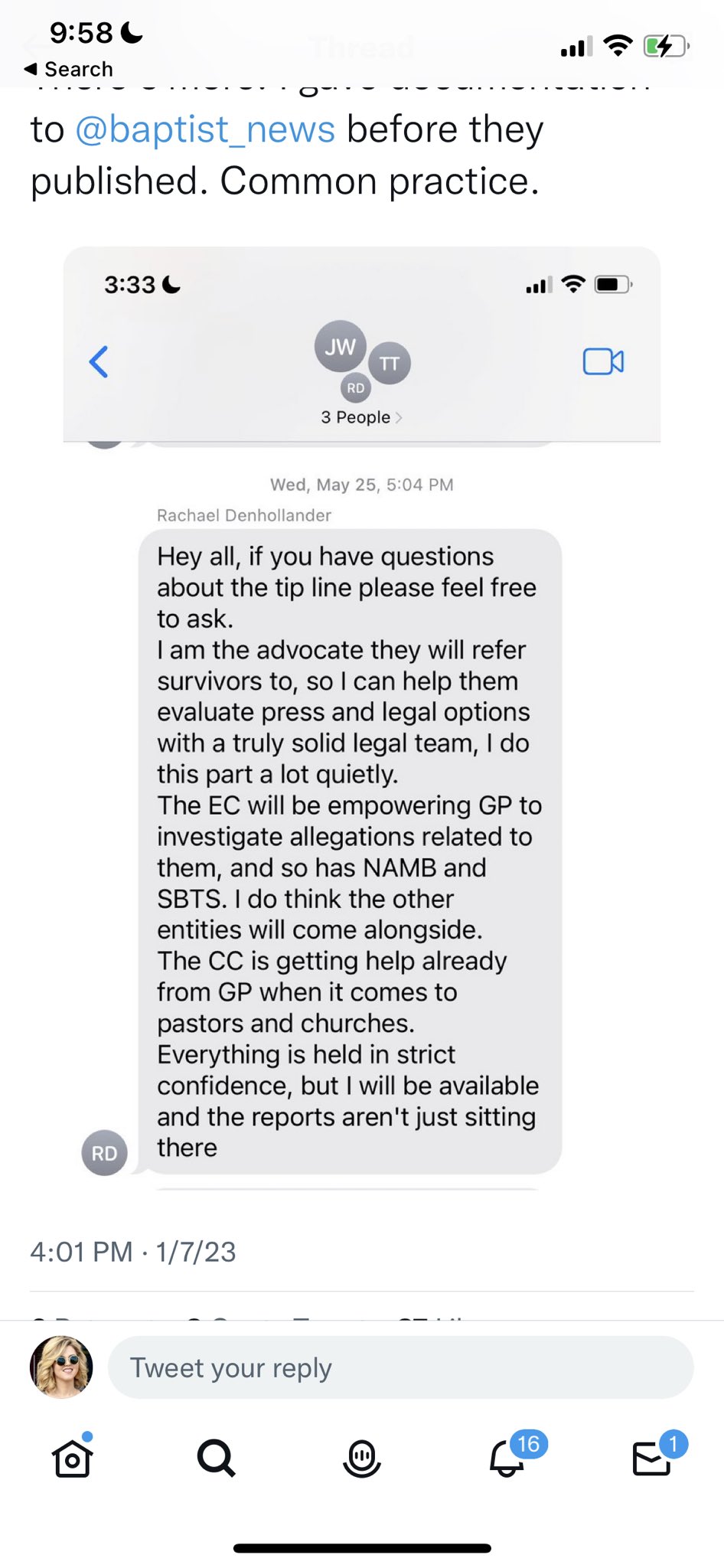 The tweeted screenshot shows Rachael Denhollander running point for legal and public relations services for anyone who uses the hotline to report abuse. While the screenshot is dated on January 7, the message appears to be from May 25, weeks before the annual convention.
Providing further context, Basham posts a link to a story about how the Survivors Network of those Abused by Priests (SNAP) had their national director resign over allegations that he was taking kickbacks from the law firms he was referring clients too. The question here is whether Rachael Denhollander is running the same game here.
Who could have seen this coming. A lot of people. 
This is both surreal and exactly what I suspected of the SBC Abuse grift.

Really stunning to see it laid bare here. https://t.co/TheNt3nlTm

— Jeff Wright (@merelyjwright) January 8, 2023
1. @DrMoore wanted vengeance for his bruised ego.
2. @DGrantGaines wanted to step out of daddy's shadow.
3. @R_Denhollander wanted $$ & power.
4. @KevEzell & Platform Cronies wanted to be unaccountable + a mechanism to push out critics.
5. @BartBarber wanted cool kid status.

— SBC Underground (@SBCUnderground) January 8, 2023
Watch the same group of evil people and easily manipulated flunkies go to New Orleans and make it even worse.

This is what God's judgment looks like at ground zero.

— SBC Underground (@SBCUnderground) January 8, 2023
Support the Evangelical Dark Web
It's not about the money. It's about supporting the mission in contending for the faith against false doctrines. Consider becoming a member of the Evangelical Dark Web. If you aren't willing, comfortable, or able to, that's cool. And if you still like our content, at least subscribe to the newsletter below.
Receive the Evangelical Dark Web Newsletter