From the state of Ohio, Max Miller is a Republican Congressman. During Evangelical Dark Web's review of primary elections, our writer noted that Miller was a formidable candidate in the race he was running particularly against one of the Republicans who supported impeachment until he decided not to seek reelection. However, exercising discernment, he wrote:
Only Max Miller, a former Trump aide is currently running, boasting a million dollars in his war chest and the endorsement of Donald Trump… Miller should waltz into victory, but he must put in the work to win this seat. Miller was subpoenaed by the January 6 Committee. On Twitter, Miller has a tendency to retweet Elise Stefanik and tout the prevailing narrative on the right. Overall, he probably will be very establishment while riding Trump's endorsement. He is no Chip Roy or MTG or Massie, but Max Miller will function as like a typical Republican Congressman.
So far, Max Miller has been a below average representative with his only notable votes being to raise the debt ceiling and support Kevin McCarthy.
He took to Twitter to denounce an Ohio activist for tweeting a logical conclusion of John 14:6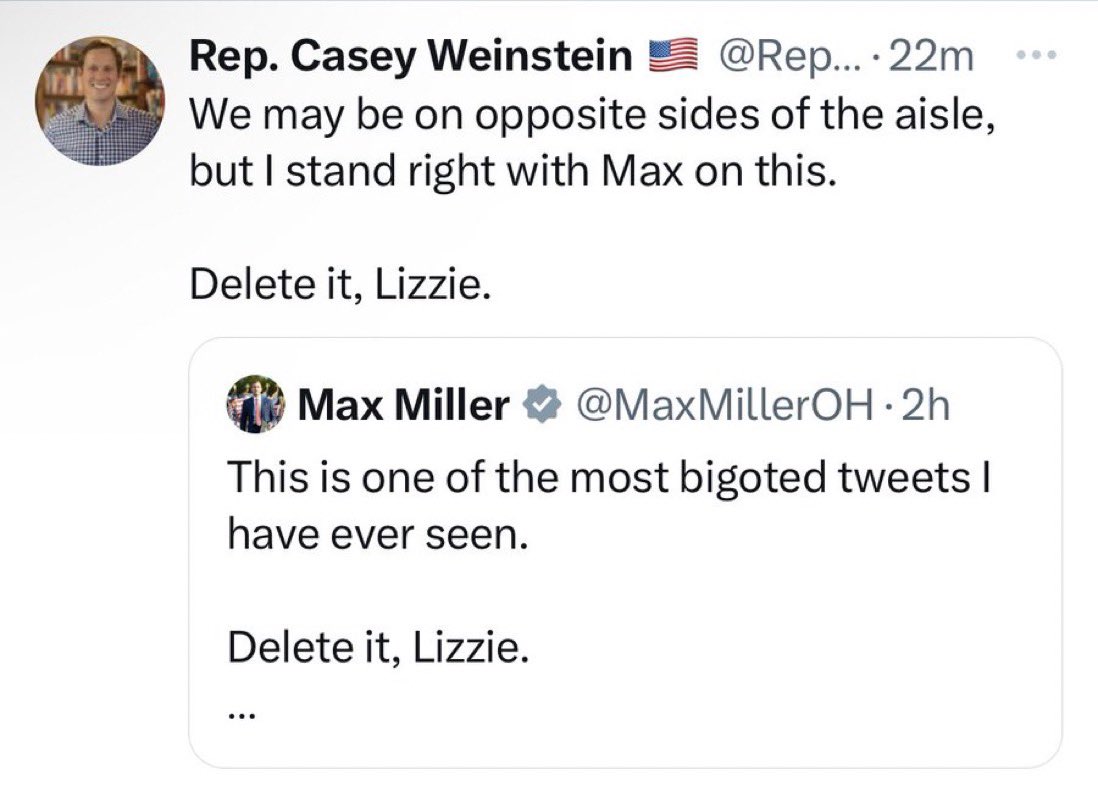 Unsurprisingly, both Congressman denouncing the tweet are Jewish. Surprisingly, Ilhan Omar, the most conservative Democrat in Congress, based on voting record, came out in support of the Christian post.
No! Stating the core beliefs or principles of your faith isn't bigoted as Lizzie did, its religious freedom and no one should be scolded for that.

It's also wrong to speak about religious freedom while simultaneously harassing people who freely express their beliefs. https://t.co/NbgKr1MvIi

— Ilhan Omar (@IlhanMN) August 16, 2023
It's worth noting that Max Miller believed in capitalizing off of Ilhan Omar's unpopularity in the beginning of the Congress, so perhaps this is a form of dunking on a personal enemy.
Two Jewish Congressmen came out and attacked Christianity as bigoted which is mighty fine coincidence. Max Miller was ultimately ratio'd into apologizing while Weinstein deleted his Tweet.
This is a W as some Christians noted.
We got two Jewish representatives to delete tweets and apologize after scolding a Christian woman for tweeting about Jesus. Uhh I'm thinking we are back and we've only just begun. Overton window shift is palpable.

— Andrew Torba (@BasedTorba) August 16, 2023
Max when a Christian says Christian things https://t.co/2rO4VcViHM pic.twitter.com/vXZAAxHbUy

— The Mallard Reborn (@MallardReborn) August 16, 2023
Support the Evangelical Dark Web
By becoming a member of Evangelical Dark Web, you get access to more content, help drive the direction of our research, and support the operations of the ministry.
Receive the Evangelical Dark Web Newsletter