It's no secret that Trump's legal defense in Georgia appears in shambles as multiple people involved have pled guilty and have agreed to cooperate with the prosecution. This included Sydney Powell, the lawyer for Mike Flynn who boasted having a kraken that she never released, something even Tucker Carlson called her out for at the time. Jenna Ellis has now entered her own guilty plea on the charge of aiding and abetting false statements and writings, a misdemeanor. Ellis charged in a state-level felony case on August 14, 2023 and plead out on October 24, 2023.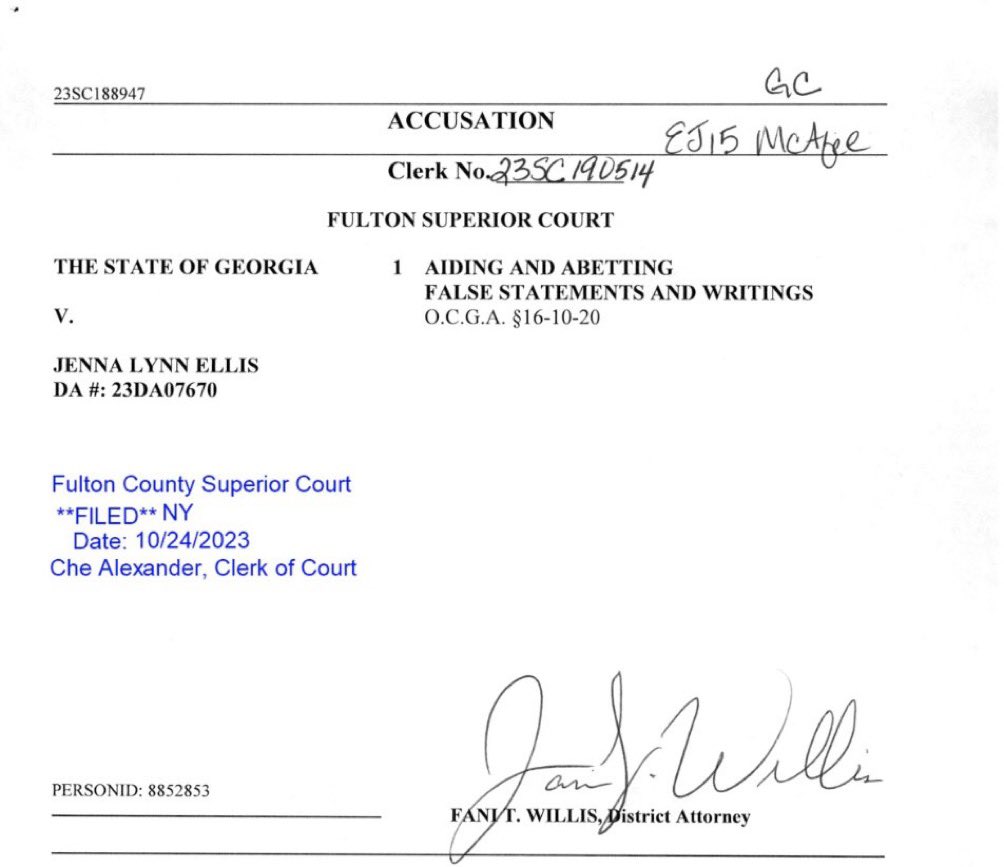 Ellis joins Scott Hall, Sidney Powell, and Kenneth Chesebro who also took plea deals, leaving 15 remaining defendants.
Jenna Ellis reads a tearful statement in court after her guilty plea where she throws Rudy Giuliani under the bus and says she wishes she had never gotten involved. pic.twitter.com/GFSXAlxuzs

— Ron Filipkowski (@RonFilipkowski) October 24, 2023
Jenna Ellis worked in some tears in her confession before the court. Ardent Trump influencers pounced on Jenna Ellis for flipping on Trump and crowdsourcing money to do so. Her plea bargain will strengthen the case against Trump even if only nominally.
It is worth noting that Jenna Ellis turned to crowdsourcing because Trump was not funding her legal defense. But the ethics of raising money to "Help her fight back and stand for the truth!" is in question when Jenna Ellis promptly admits to participating in a lie.
Criminal defense attorney here. 16 years experience. If you are charged in a state-level felony case on August 14, 2023 and plea out on October 24, 2023, you did not incur $216,000 in legal expenses. I can assure you of that. I promoted the GoFundMe because I thought Jenna Ellis…

— Eric Matheny 🎙️ (@ericmmatheny) October 24, 2023
Many prominent media figures donated to her campaign, and it will be interesting to see how they feel about this plea. As she raised money for a long legal battle, much of what she raised is now unearned revenue for the legal team that set up the crowdfund campaign.
Many are calling for her to return the unused funds. She promised to fight for the truth and quickly cowered.
The lawyers provided an update to the crowdfund campaign claiming:
Thank you for your support for Jenna's legal defense fund. The Georgia case has been resolved. Your support helped Jenna immensely. We want to answer a question that has been raised regarding the fund. The legal fees and costs significantly exceeded the amount raised by the fund. Thank you for your continued support.
While Jenna Ellis takes a reputational hit, her lawyers billed their way through $200k only to negotiate a plea deal.
Receive the Evangelical Dark Web Newsletter
Support the Evangelical Dark Web
By becoming a member of Evangelical Dark Web, you get access to more content, help drive the direction of our research, and support the operations of the ministry.