It's rare to see a church in New York City be in the city but not of the city. Tim Keller is certainly a high profile example of this phenomenon. But there is a positive example coming from Providence Baptist Church, a reformed Baptist church in New York City. They passed out leaflets at a faith-based college advertising their church to students. On their leaflets, they lay out all the questions that someone would have about the pressing issues of our time.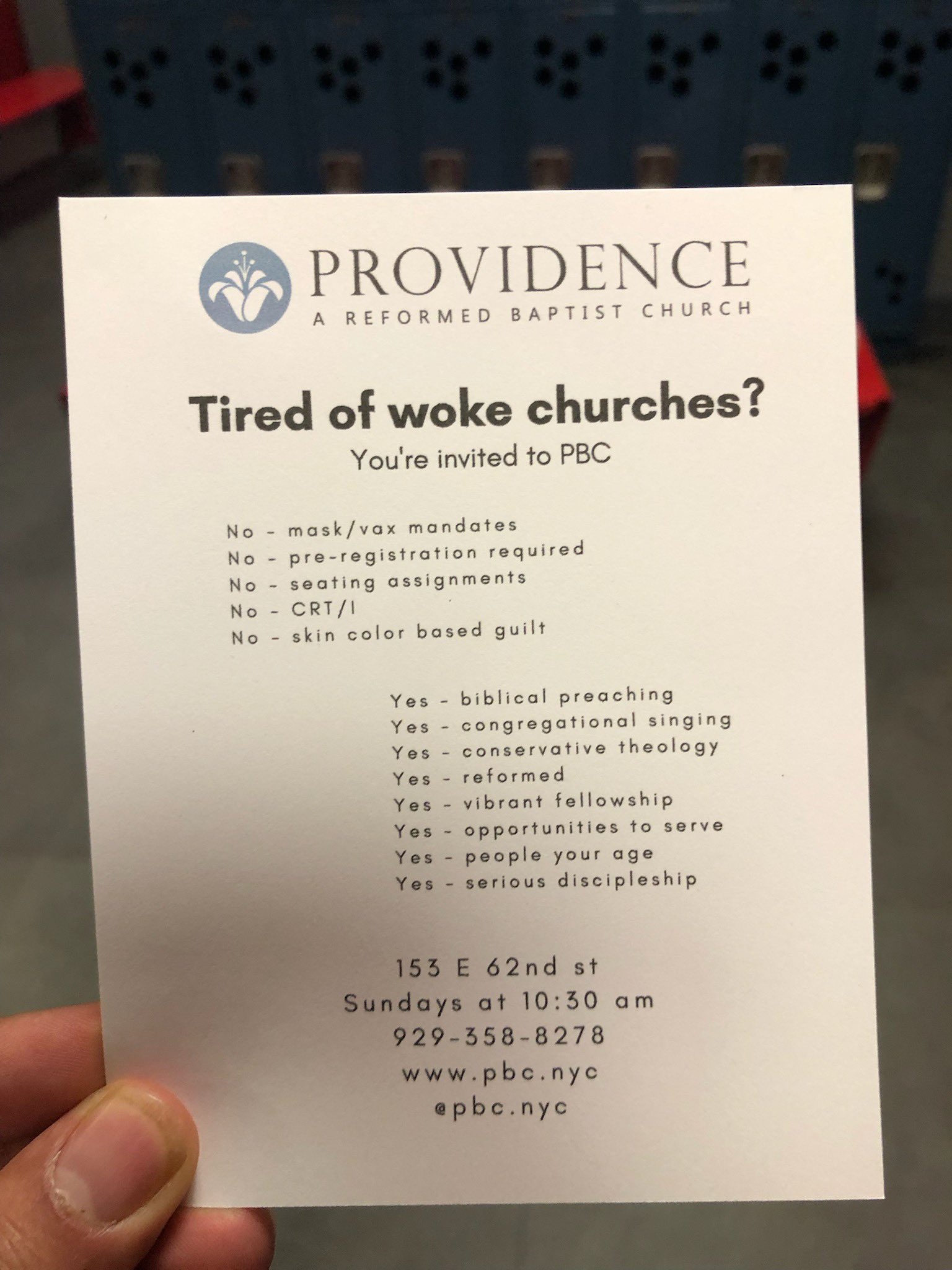 They make it clear that they are following biblical ecclesiology and are not enacting any Branch Covidian theater as a requirement for worshipping Christ. They also make it clear that they are not in any way shape or form woke.
Makes me want to throw up 🤢 pic.twitter.com/yKdgd5pUFY

— Jesus & Jawn Wayne ✝️🤠 (@CharlesSJLewis) September 17, 2021
The pastor responds to the notoriety.
This is amazing. Read all the comments under the original.

We handed these out at a church fair at a Christian college, and somebody sent one to @CharlesSJLewis and his followers are going nuts.

My fave comment "He's gonna have a rough week. Might lose one of his 17 followers" https://t.co/EW2YggjgtJ

— Andy Woodard (@AndrewNWoodard) September 17, 2021
PBC also advertises help with obtaining religious exemptions for the COVID vaccine, despite NYC enacting a passport system. In an age where many churches are compromised, it's good to highlight a church that is actively striving to remain faithful. If you are looking for a church in NYC (first why are you living there?), we recommend this one.
Consider also supporting Evangelical Dark Web
It's not about the money. It's about supporting the mission in contending for the faith against false doctrines. Consider becoming a member of the Evangelical Dark Web. If you aren't willing, comfortable, or able to, that's cool. And if you still like our content, at least subscribe to the newsletter below.
Receive the Evangelical Dark Web Newsletter