The Presbyterian Church of America (PCA) is currently undergoing its General Assembly. With the demise of the Southern Baptist Convention, the battle within the PCA, the distant second most quintessential Evangelical denomination in the United States, is the next major front for larger issues facing Christianity in the west. In the Southern Baptist Convention, the theological issues in order of imminence are Critical Race Theory, egalitarianism, and homosexuality as a distant third. While the PCA seems solid against egalitarianism, homosexuality is their biggest issue instead of Critical Race Theory. It manifests itself in the Revoice Movement which aims to redefine homosexuality to not include homosexual desires and attractions.
But while the Southern Baptist Convention did not confront Critical Race Theory in its annual convention, the PCA is poised to battle over the issue of homosexuals in ministry. Overture 23, if passed by the presbytery, would disqualify many of the Revoice proponents.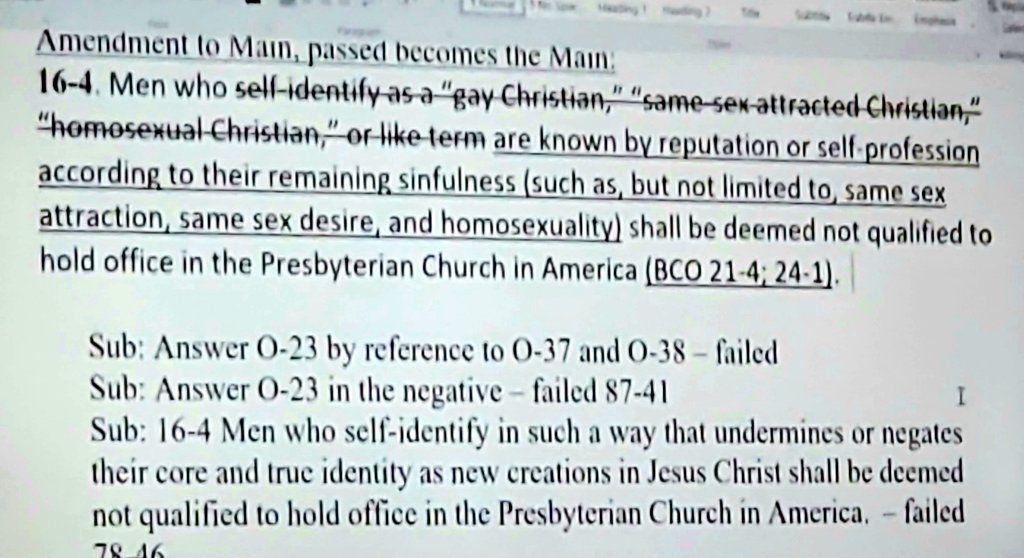 The wording of this amendment is strong. Those who profess or are known to according to their identity in sin are disqualified from ministry. This means those who identify as "celibate gay Christians" will be disqualified from ministry according. Those who call themselves queer like Art Pereira would be disqualified from ministry despite their dubious commitment to traditional Christian ethic.
Overture Committee passed the amendment 88-38-1. This exceeds the 2/3 majority threshold needed when for the Overture to pass in the assembly. The key question is whether the Overture Committee is more conservative than the General Assembly or whether it is merely a representative sample. If the latter, then the 2/3 majority will be met.
The Christians of the PCA clearly meant business, unlike the messengers of the Southern Baptist Convention. They are poised to deliver a massive blow to the homosexual subversion of the authority of Scripture.