As head of the North American Mission Board, Kevin Ezell has been kingmaker in the Southern Baptist Convention. He helped JD Greear, Ed Litton, and Bart Barber all become presidents of the Southern Baptist Convention to ignore the decline in missional effectiveness of the North American Mission Board. Yesterday, NAMB announced in partnership with Ed Stetzer, a notorious liberal wolf, that they were going to helped Southern Baptists partner with the He Gets Us campaign. He Gets Us is a hundred million dollar ad campaign featuring exceedingly low quality short and vacuous ads that attempt to make Jesus relatable.
Although NAMB deleted the tweet that got ratio'd on Twitter (of which I was among the first to troll them), they did not delete the Eventbrite link. Kevin Ezell came under fire for this nonsense as He Gets Us is both a colossal waste of money and spreads a false gospel. Yesterday, Evangelical Dark Web reported that He Gets Us essentially states that it doesn't matter whether Jesus lived a perfect life when it comes to valuing his teachings. In a rare move, Kevin Ezell conceded.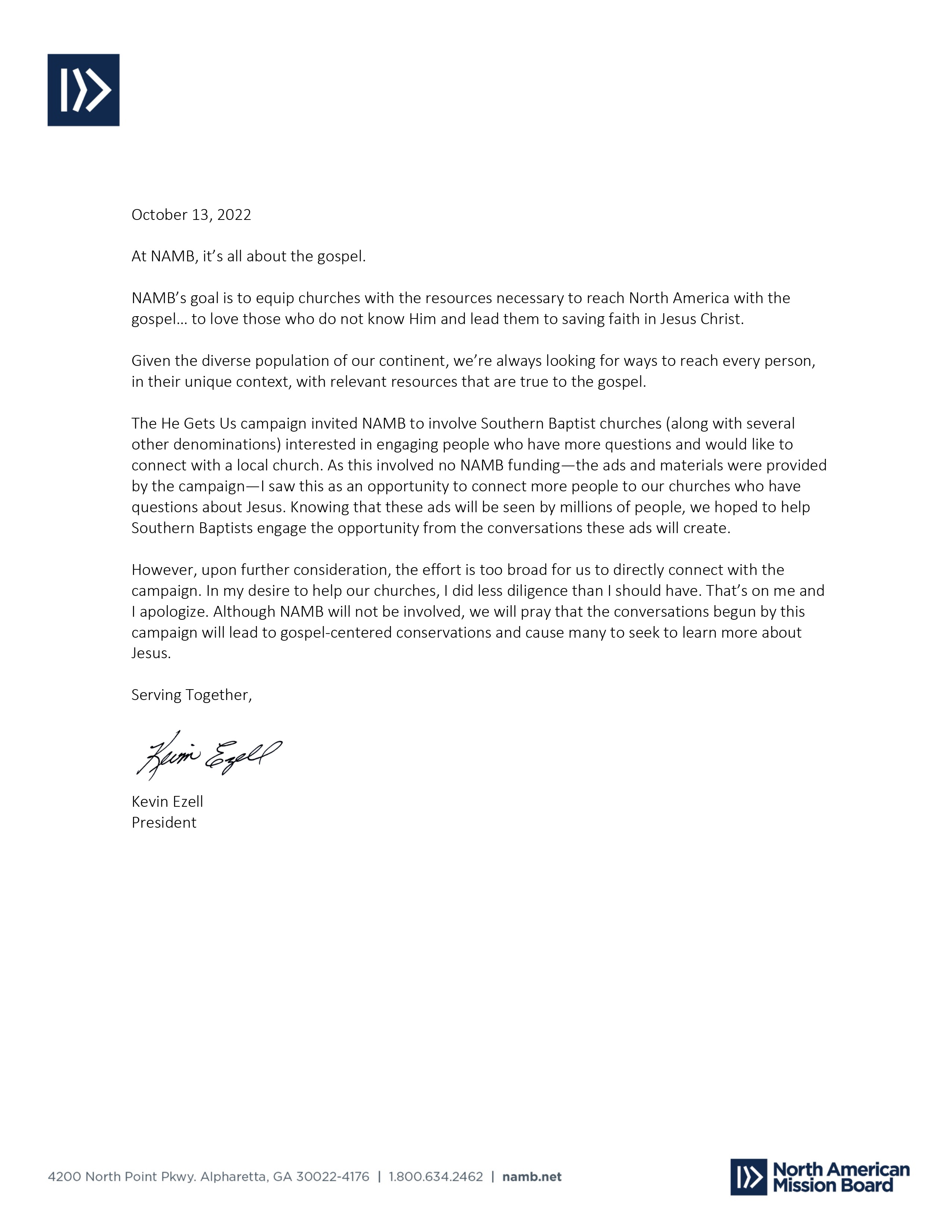 This is a rare defeat for Kevin Ezell, the first major defeat since FBC Naples rejected Marcus Hayes in 2019. And it was the result of ministries like Evangelical Dark Web, Protestia, and Capstone Report independently exposing He Gets Us and NAMB for this outcome to have occurred.
Support the Evangelical Dark Web
It's not about the money. It's about supporting the mission in contending for the faith against false doctrines. Consider becoming a member of the Evangelical Dark Web. If you aren't willing, comfortable, or able to, that's cool. And if you still like our content, at least subscribe to the newsletter below.
Receive the Evangelical Dark Web Newsletter