Last year the Presbyterian Church in America voted to ban identifying homosexuals from ministry with Overture 23. Yet in 2022, the PCA would again take up the same issue. As the Revoice Movement proliferating side b theology divides the PCA, the recent development may suggest that Christians have lost ground since last year. In between assemblies Overture 23 failed to be affirmed by the proper jurisdictions, thus killing the amendment to the Book of Church Order, the governing constitution of the PCA. The Overture read:
16-4 Officers in the Presbyterian Church in America must be above reproach in their walk and Christlike in their character. Those who profess an identity (such as, but not limited to, 'gay Christian,' 'same sex attracted Christian,' 'homosexual Christian,' or like terms) that undermines or contradicts their identity as new creations in Christ, either by denying the sinfulness of fallen desires (such as, but not limited to, same sex attraction), or by denying the reality and hope of progressive sanctification, or by failing to pursue Spirit-empowered victory over their sinful temptations, inclinations, and actions are not qualified for ordained office."
While this would fail, the second consecutive attempt to take up the same issue streamlined the paragraph, originally reading:
7-4. Men who identify as homosexual, even those who identify as homosexual and claim to practice celibacy in that self-identification, are disqualified from holding office in the Presbyterian Church in America.
This was recommended by the Overtures Committee. On Thursday, the General Assembly would amend the language of the Overture to remove identify, broadening it to describe.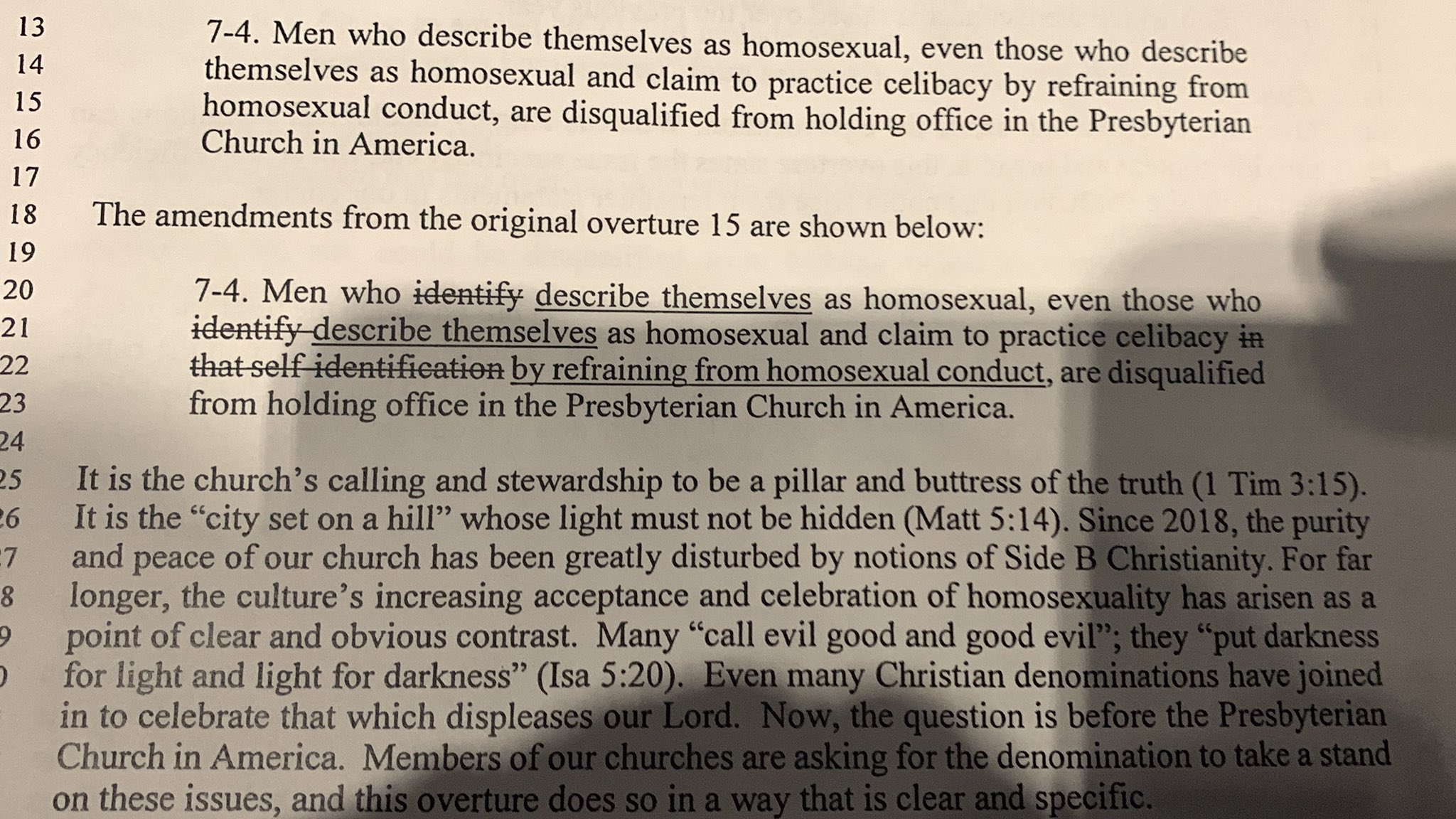 The General Assembly would vote to affirm the Overture by a vote of 1167-978, prevailing by nearly 200 votes. This amounts to 54.41% voting to disqualify identifying homosexuals and 45.59% supporting the Revoice Movement. This narrow victory was over 20 points fewer than Overture 23 received in 2021. Overture 23 Passed by a vote of 1438-417 (77.52%).
In order to become binding, Overture 15 will need to be passed by simple majority by 2/3 of the presbyteries. And then it will need to be passed at next year's general assembly in Memphis. Given the narrow margin of victory and the failure of Overture 23, it is unlikely that Overture 15 will prevail.
In related news, the General Assembly voted to reject Overture 42 which was a resolution forbidding elders from participating in secretive political groups with the purpose of impacting presbyteries. The vote was 851-411. This Overture was in response to the National Partnership, a secretive group driving a leftward drift in the PCA.
Support the Evangelical Dark Web
It's not about the money. It's about supporting the mission in contending for the faith against false doctrines. Consider becoming a member of the Evangelical Dark Web. If you aren't willing, comfortable, or able to, that's cool. And if you still like our content, at least subscribe to the newsletter below.
Receive the Evangelical Dark Web Newsletter